Timberland PRO 40000 boots protect all welders, both men, and women.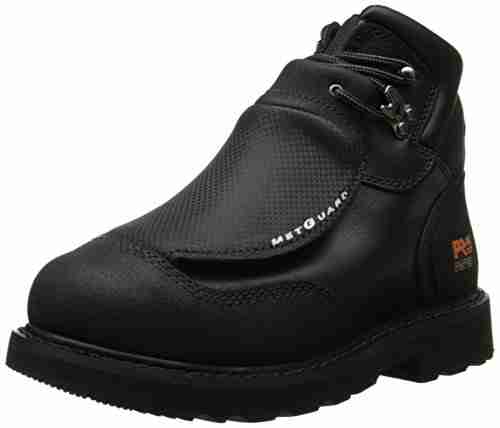 They are among the few welder work boots we have found and whose sizes are listed in the size chart.
Like the 53530 Timberland boots we saw earlier, they're made of Ever-Guard ™ leather.
These boots are designed to resist abrasion and withstand wear and tear even in the harshest working conditions.
The leather construction also makes the boots waterproof and heat resistant.
The steel caps offer impact protection folding metatarsal protection that protects the upper part of the feet.
The rubber outsole is corrugated for added bumper protection and is slip, heat, oil, and abrasion-resistant.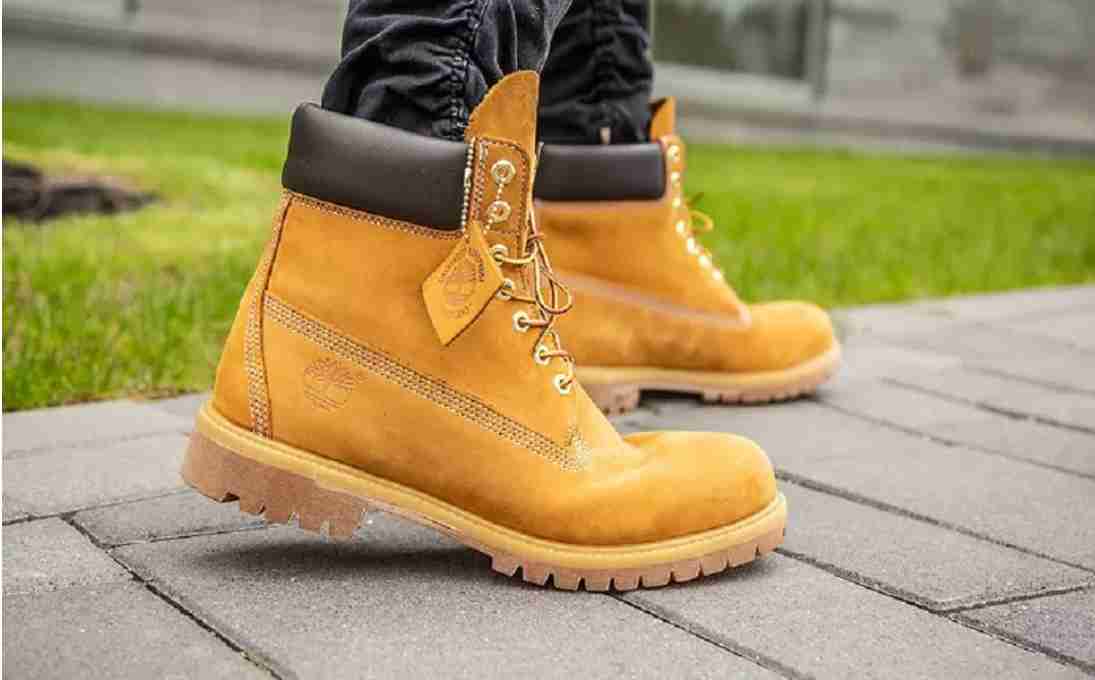 Timberland PRO 40000 Review
These Timberland 40000 are comfortable and robust shoes.
These boots are similar in design to the Timberland 53530 but have a 6-inch shaft instead of 8-inch boots for people who prefer ankle boots.
With a folding metatarsal guard and a steel cap, your feet and toes are protected from falling objects. The sole is made of synthetic material and has a rubber sole that is corrugated and non-slip, resistant to heat, oil, and abrasion.
The sole is also quite stiff, perfect if you want something firm.
There's a nice 1.5-inch heel at the back of the boot and a steel axle 6 inches from the arch for added support.
The only surprising thing is that despite all this steel, they are surprisingly light and cannot be transported.
Timberland wants to offer comfort and uses the asymmetrical shield design to follow the foot's natural shape with a contoured insole so you can wear it longer.
These boots are very durable and should last a long time when welding. They are made from Ever-Guard leather, one of the best abrasion-resistant leathers.
In addition, the seam is flame retardant made of Kevlar to protect it from other sparks. These are solid boots.
Read Next – Best Welding Boots Our Reviews And Buyer Guide
Timberland PRO Endurance 6″ External Met Guard Steel Toe
An integrated steel shaft and anatomically shaped insole support your feet for added comfort.
Asymmetric mead protectors also follow the shape of your feet to allow more flexibility without stiffening your ankles or feet.
The following video shows the Timberland PRO 40000 Met Guard Steel Toe boots.
Pros
Ever-Guard ™ leather construction with fire retardant Kevlar seams for longer life.
Comfortable Met-Guard.
Shock-absorbing polyurethane insole to reduce foot fatigue.
6-inch steel shaft for extra grip.
Steel cover protection.
Completely non-slip and protect against electrical risks.
Also available in women's sizes.
Cons
Some users complain that the seam falls for a short period.
Heavy boots mean heavy boots.
The tip holder can break if pulled too hard.
Another solid Timberland work boot, this time for welders.
The boots offer maximum steel caps and folding metatarsal protection for falling objects.
These durable boots look new even after several months of intensive use.
Read Next – Cotton Welding Work Gloves
Timberland PRO Men's 40000 Met Guard 6' Steel Toe Boot,Black/Black,10.5 W
6 new from $145.02

as of April 1, 2023 3:53 pm
Timberland PRO Men's Powertrain Sport Alloy Toe EH Industrial & Construction Shoe, Black Synthetic, 13 W US
4 new from $99.95
Free shipping
as of April 1, 2023 3:53 pm
Timberland PRO Men's Excave External Met Guard Work Boot,Black Split Leather,10.5 M US
out of stock
as of April 1, 2023 3:53 pm
Timberland PRO Men's Disruptor Chukka Alloy Safety Toe EH Industrial & Construction Shoe, Donkey Nubuck, 10 W US
1 used from $39.13
Free shipping
as of April 1, 2023 3:53 pm
Timberland PRO Men's Disruptor Oxford Alloy Safety Toe EH Industrial & Construction Shoe, Black/Black Canvas, 10 W US
2 new from $109.95
Free shipping
as of April 1, 2023 3:53 pm
Timberland PRO Men's Titan Safety Toe Oxford,Haystack Brown,11 W
2 new from $130.00
Free shipping
as of April 1, 2023 3:53 pm
Timberland PRO Men's Pitboss 6" Soft-Toe Boot,Brown,10.5 M
5 new from $107.89
Free shipping
as of April 1, 2023 3:53 pm
Timberland PRO Men's Pitboss 6" Steel-Toe Boot, Brown , 9 D - Medium
8 new from $103.00
3 used from $65.75
Free shipping
as of April 1, 2023 3:53 pm
Timberland PRO Men's Powertrain Sport Alloy Toe EH Industrial & Construction Shoe, Black Synthetic, 10 M US
7 new from $109.95
Free shipping
as of April 1, 2023 3:53 pm
Timberland PRO Men's Powertrain Sport Alloy Toe EH Synthetic Industrial & Construction Shoe, Black Raptek, 9.5 M US
4 new from $94.87
Free shipping
as of April 1, 2023 3:53 pm
Timberland White Ledge Men's Waterproof Boot,Dark Brown,11 W US
3 new from $79.95
1 used from $54.43
Free shipping
as of April 1, 2023 3:53 pm
Timberland PRO Men's Powertrain Sport Alloy Toe SD+ Industrial & Construction Shoe, Grey Synthetic/Orange, 10 W US
5 new from $98.87
Free shipping
as of April 1, 2023 3:53 pm