Having a pair of boots that protect your feet when welding, provide comfort when worn for long periods, and last for years is something we all want!
Below are our recommendations for some of our favorite welding boots that perform all of these tasks.
If you already know if you want to wear boots or boots with metatarsal protection, quickly jump to the sections using one of the links below.
Features Timberland PRO 53530 Review
These best Timberland welding boots have various features that exceed ASTM safety standards.
The boots are also very comfortable and offer additional ankle protection in a higher cut than usual at the back.

Metatarsal protectors are essential components of good welder work boots. An 8-inch upper Met-Guard provides maximum protection for the metatarsals of your feet and the inevitable spark of welding.
Met Guards are asymmetrical and foldable to protect the entire foot, even if it bends or bends over.
The Timberland 53530 is a high-quality boot larger than the usual lace-up ankle boots for added support.
Timberland aims to meet three essential criteria: comfort, durability, and safety. With a waterproof metatarsal steel guard, a steel cap, a steel shaft, and a design that meets ASTM safety standards for pressure resistance and impact resistance, you're safe.
If something falls on your feet, you will get the best protection possible. "Protection in all directions" is the Timberland mantra.
The only surprise is that they aren't that difficult. There's also an abrasion, slip, and oil-resistant rubber outsole to prevent a fall.
These are comfortable boots with a collapsible metatarsal protector to ensure flexibility is not compromised and an asymmetric toe design that allows the boot to follow the natural shape of your foot. There is also decent breathability.
For added durability, Timberland used Kevlar seams to protect against sparks. They are made from heat and abrasion-resistant Ever Guard leather, much more durable than regular leather.
In general, they are a pair of safety boots for your feet and will serve you for a long time. They are also comfortable enough to wear for long periods.
For superior construction, Ever-Guard ™ leather is waterproof, protects against abrasion, and is heat resistant. Kevlar seams increase durability and protect against sparks.
The steel lids are spacious and comfortable while meeting ASTM standards for heat and shock. A rubber outsole is resistant to abrasion, slip, and oil, ideal for working outdoors.
Read Next – Timberland PRO 40000 Review – Met Guard 6" Steel Toe Boot
The good
If you are looking for a pair of sturdy welding boots that can withstand the harshest wear, this may be your solution.
For starters, they were made with a sturdy outsole that prevents them from slipping when wet (or on slippery surfaces like oil and gasoline).
Also, these boots have double stitching and sturdy eyelets and laces. This makes these boots extremely durable and ready to withstand the most intense stresses.
The full-grain waterproof leather upper is secure and protective enough to keep the elements away, while the fabric lining wicks away moisture to keep your feet feeling fresh and relaxed all day.
These boots are surprisingly flexible and, thanks to the ankle padding and removable insole, are incredibly comfortable but don't compromise on quality.
Just like you would expect from a good pair of tracksuit boots, they have a steel toe cap that protects your feet from bumps without being as heavy as other similar boots on the market.
Read Next – Caterpillar Revolver Review – Best Pull-On Steel Toe Boot
The bad
The soles are pretty soft means that they are flexible, but this has a significant disadvantage.
This softness also melts small areas of the sole quickly when you step on something scorching. So be careful where you step when you wear these boots.
As more oversized boots, they weigh significantly more than similar ankle boots. The weight does not appear to be as high as it extends to the calf with increasing ankle support.
However, many users have complained of fatigue in the legs and ankles; They may not be the best boots if you need more mobility.
Pros
Ever-Guard ™ leather is up to ten times stronger than conventional leather.
Waterproof, resistant to abrasion and heat.
Fire retardant seams and durable laces.
The 8-inch anatomical midfoot protection conforms to the natural contour of the feet and offers additional protection.
Comfortable suspension technology to avoid foot fatigue during long hours of work.
Extra protection for the ankle.
Non-slip rubber soles.
Read Next – Caterpillar Assault Review – Best Men's Assault Work Boot
Cons
Heavy: Wearing these boots will strengthen your leg muscles.
The seams on the back are known to come off in just a few months.
With extended external metatarsal protection, added ankle protection, and a comfortable suspension system, these Timberland boots offer protection from all directions.
A super hard leather with fire-resistant seams ensures they are suitable for the most challenging welding tasks.
Buyer Guide
Hopefully, this guide has helped you find the right pair of welding boots for your needs. Below I have added some final considerations.
Waterproofing
If your boots are not waterproof and want them, you can always apply a coat to keep your feet dry and keep your shoes in good condition.
Usually, the bootmaker provides a testing agent like Dr. Martens Wonder Balm, but you can also use other things like mink oil.
Kevlar laces
Many welders fly through beads. So if you want to make a solid investment, you need to buy some kevlar laces. Kevlar is a highly heat-resistant material that lasts a long time.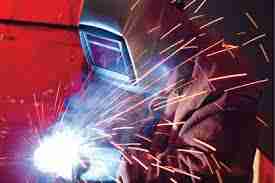 Comfort
If you walk with your feet in the workshop for a long time, your feet should be comfortable. It isn't easy to concentrate and do your best work when you are not feeling well.
Safety boots don't have to be heavy and uncomfortable. There are plenty of secure and comfortable boots.
Price
We try to offer a price range in our recommendations, but we don't include cheap welding boots.
If you see boots worth $ 30, they're likely to be uncomfortable, under-protective, and crumble in a few months.
A good pair of sweat boots can last for years if you take care of them!
We hope you enjoyed our article "The Best Welding Boots in 2022".
We would appreciate it if you could rate it and share it.
Timberland PRO Men's 53530 8" Metguard Steel-Toe Boot,Black,10 M
4 new from $162.35

as of September 21, 2023 4:11 am
Timberland PRO Men's Pitboss 6" Steel-Toe Boot, Wheat , 9.5 D - Medium
3 new from $110.89
Free shipping
as of September 21, 2023 4:11 am
Timberland PRO Men's 85516 Internal Met Guard Work Boot,Black,15 M US
3 new from $145.95

as of September 21, 2023 4:11 am
Work Boots, STL, Mens, 13W, 8In, Blk, PR
as of September 21, 2023 4:11 am
Timberland PRO Men's Direct Attach 8" Steel Toe Boot,Wheat,10.5 M
4 new from $127.89
1 used from $71.95
Free shipping
as of September 21, 2023 4:11 am
Timberland PRO Men's 26038 Direct Attach 6" Steel Toe Boot,Black,11 M
5 new from $125.89
Free shipping
as of September 21, 2023 4:11 am
Timberland PRO Men's 40000 Met Guard 6' Steel Toe Boot,Black/Black,10.5 M
10 new from $144.63
Free shipping
as of September 21, 2023 4:11 am
Timberland PRO Men's Boondock 6 Inch Composite Safety Toe Waterproof Industrial Work Boot, Brown Oiled Distressed, 9 Wide
6 new from $199.95
Free shipping
as of September 21, 2023 4:11 am
Timberland PRO mens Pit 6 Inch Steel Safety Toe Industrial Work Boot, Brown/Brown, 13 US
9 new from $104.95
1 used from $56.05
Free shipping
as of September 21, 2023 4:11 am
Timberland PRO Men's Endurance 6" Steel Safety Toe Puncture Resistant External Metguard EH Industrial Boot, Brown, 5
out of stock
as of September 21, 2023 4:11 am