Welding is about to get more fun.
The TOOLIOM Auto-darkening TL-M800D offers a clearer welding vision with an amazingly padded heat fit while welding.
Features TOOLIOM Welding Helmet
Besides, this fantastic auto-darkening helmet has a prolonged battery life that will permit you to work more, even without power, and it is compatible with TIG, MIG, MMA, and MAG.
Super big view area
The viewing area is significant to ensure the brighter and best performance, and you do not need to raise your hood every time you move.
Further, you can install a cheater or magnifying lens, making it perfect for people needing vision correction.
And even with the extensive field of view, it is lightweight, and you can wear it for up to ten hours with zero fatigue.
Read Next – Top 5 Best Welding Machine Mig Our Top Picks
Ultimate versatility
The TL-M800D provides ultimate versatility via its welding lens, allowing you to customize the shade range for different applications.
For weld mode, you can pick shades 9-13 and shade four for grind mode, while for the cut mode, you can choose from shades 5-9.
Other internal specs that make TL-M800D one of the top welding helmets contain delay, sensitivity settings, and UV/IR protection.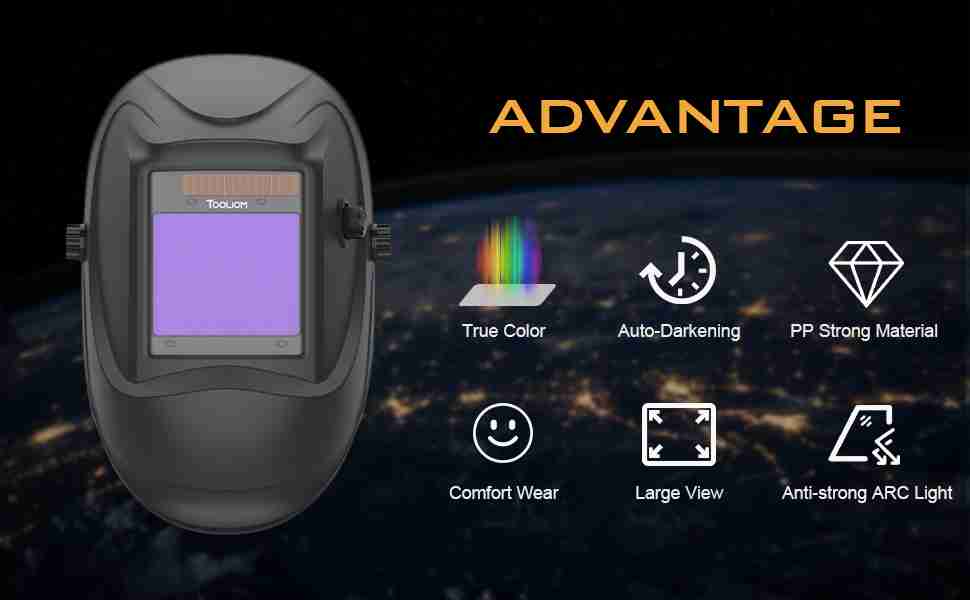 Read Next – Super Deal Pro MIG Welding Machine
Adjust and perfect the design
This helmet has a perfect, rounded perimeter and is designed for the highest support and better fit.
It is incredibly light and has multiple adjustment points for personal references and relaxing settings.
The helmet has two replacement outer lenses, eleven replacements inside the lens, and one replaceable battery.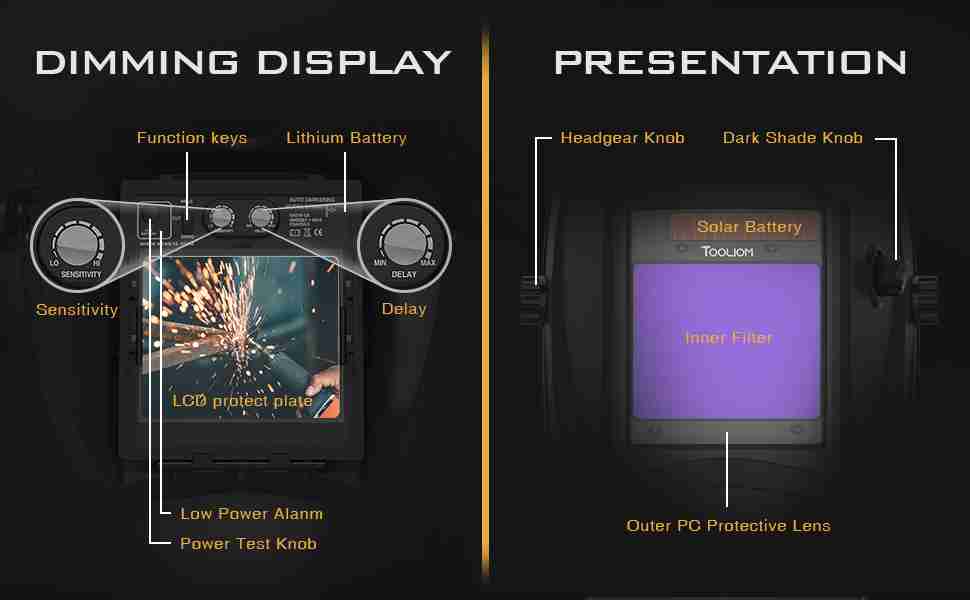 Read Next – Best Welding Helmet Canada For You in 2023
The True color technology
If you do not love the traditional lime green tint, the TL-MD800D provides a realistic color view,w like looking via clear window glass.
That way, you will have a clearer welding vision, so you will view your workpiece and locate the welding point rightly.
Read Next – TOOLIOM Welding Helmet TL-M800D
TOOLIOM Solar Powered Welding Helmet Auto Darkening                                   
The Toolium welding helmet is a cost-friendly choice with auto-darkening filters and a flexible design. It contains four arc sensors and a quick switch speed, permitting it to darken fast when you begin the welding arc.
The helmet weighs just over 2 pounds. It also has a cushion in the sweat-absorbing headband to raise the helmet's comfort.
The Toolium welding helmet uses replaceable batteries. Instead of charging the helmet battery, you can change the batteries. Anyway, the best spec of the helmet is the big viewing area.
The helmet has a viewing area that measures 3.94 x 3.27 inches. It is taller, matched to most options, and over twice the height of the previous helmet.
The excellent part about the Toolium welding helmet is the big view with bright visibility. These specs make working simple, but they save your eyes from destruction.
Additionally, the headgear is super relaxed and lightweight. This permits a welder to work for hours without any neck strain. It is also breathable and absorbs sweat.
Further, this is an extensive range of welding shades and modes. Tooliom also provides delay and sensitivity management for increased welding relaxation.
Tooliom also comes with an extra lens and battery.
Read Next – YESWELDER ARC Welder 205 Amp Digital Inverter
Pros
Affordable
It comes with extra glass and a battery
Relax and lightweight
Big viewing window
Cons
Responsive time is a bit slow
Do not flip down with a flip of the head
TOOLIOM True Color Welding Helmet Auto Darkening Welding Mask with Shade Range 9-13 Solar Powered Weld Hood Flaming Skull Style for TIG MIG ARC
as of December 5, 2023 3:12 am
Read Next – The Ultimate Guide To Choosing The Right Welding Hood For Your Needs
How to pick the best welding helmet?
Here you will learn the secrets of finding the best welding helmet, so keep reading and become a professional who knows the art of always finding the best welding helmet.
Read Next – Best Speedglass Welding Helmets Buying Guide
Construction
First of all, let us talk the durability. Constructing a welding helmet is critical to deciding how long the product will serve you. Plus, it determines how the flame-retardant aspects of the item as well. You might have to spend a little more cash for a best-class welding helmet. It will be harshly sad if the welding helmet you have purchased stops serving you in your hour of need.
So, picking the best construction for your welding helmet is the optimum choice.
TOOLIOM 195A Stick Welder with Large View Welding Helmet
as of December 5, 2023 3:12 am
Comfort
The job is quite strenuous, whether it is grinding, welding, or cutting. So, if the welding helmet is not relaxed, you might have a bad life experience.
Consequently, the solution is to ensure that it has soft cushions, an adjustable setting for a fun fit, and is lightweight for simple maneuvering.
Read Next – Best Wire Feed Welder Buying Guide
Visibility
In grinding, welding, or cutting, being capable of viewing your work is absolute. If what you are doing is not visible to you, you will not be capable of getting the proper outcomes from the product. That is why we cannot put sufficient emphasis on how such an item needs to have stunning visibility.
One thing that determines visibility is the auto-darkening feature. When you are welding, blinding light gets emitted. It is the auto-darkening quality work to decrease the light's intensity and lets you work without any problem.
Next is the range of shades accessible. Your item must have an extensive range of shades to mask the intense light from your welding project. The more shadows, the more varieties of operations you can do.
Read Next – Ideal Welding Tips – Tips to get the ideal weld
Price
Once you are done with everything we have advised here, it is time to check to make the purchase. Do not ever cross budget restrictions.
You can find the best helmet at a low price and a high one.
It should depend on you and how much you will spend on it. Before you purchase such a product, the best thing would be to check the price and then go ahead and splurge.
TOOLIOM Welding Helmet, True Color Auto Darkening 1/1/1/2 Large Viewing 3.94"x 3.27" Welder Mask Hood with Weld/Grind/Cut Mode for TIG MIG/MAG MMA Plasma Grinding
as of December 5, 2023 3:12 am
Frequently Asked Questions (FAQs)
Where should I store my Tooliom welding helmet?
You should certify that your items are kept clean and organized. The perfect choice for storing such a product is to keep it in a cupboard with all your utensils.
How long does a Tooliom welding helmet last?
Well, welding helmets are made from top-standard materials. They are waterproof, fire-retardant, scratch-resistant, rust-proof, dent-resistant, etc.
Hence, it is safe to say that such a product will serve you for at least five years without fail. Anyway, it also depends on the standard of the specific helmet that you purchased.
What is the price range of auto-darkening welding helmets?
Well, welding helmets have a wide range of prices. If you want a degree, the average cost of a welding helmet varies from thirty to three-hundred dollars.
Why do pro-welders pick auto-darkening welding helmets?
The auto-darkening effects decrease the intense light emitted during welding work, which reduces the worry in one's eye. Plus, they are known to provide a user with fantastic visibility.
Does the lightweight trait of a welding helmet provide any perks?
Yes, it does! The lightweight spec will permit you to move while wearing the product.
How to clean a welding helmet?
Cleaning a welding helmet is an extremely straightforward job. Here they are:
Begin by wiping the surface of the welding helmet. You can use kitchen paper or anything similar.
Use a brush to clean places like the mouth vent, etc. there has a lot of dirt, and cleaning them using a fine brush is the best idea.
If you have an air force duster, remove the remaining dirt after cleaning with a brush.
Next, clean the lens. This is the most vital part of your item, and it needs the highest type of attention. So, we advise using the best lens cleaner for this job.
After that, disinfect the welding helmet.
Last updated on December 5, 2023 3:12 am
Q: What is TOOLIOM Welding Helmet?
A: TOOLIOM Welding Helmet is a high-quality welding helmet that protects the eyes and faces during welding and cutting applications. It has an auto-darkening feature that automatically adjusts the shade from light to dark when exposed to a welding arc.
Q: Why do I need a welding helmet?
A: A welding helmet protects your eyes and face from the intense light and heat produced during welding, cutting, and grinding. It also protects against flying debris and harmful radiation.
Q: What is an auto-darkening welding helmet?
A: An auto-darkening welding helmet is a type of welding helmet that features a lens that automatically darkens when it detects the arc. This provides a clear view of the welding area without having to lift the helmet up and down constantly.
Q: What is true color auto-darkening?
A: True color auto darkening is a feature on welding helmets that provides a more realistic and clear view of the welding area. It ensures that the colors and contrasts are not distorted, making it easier to see and work on the weld.
Q: What is the viewing area on TOOLIOM Welding Helmet?
A: TOOLIOM Welding Helmet has a large viewing area measuring 3.94 x 3.27 inches. This provides a clear and unobstructed view of the welding area.
Q: What types of welding can I use TOOLIOM Welding Helmet for?
A: TOOLIOM Welding Helmet suits MIG, TIG, and arc welding applications. It is also suitable for plasma cutting and grinding.
Q: Is TOOLIOM Welding Helmet adjustable?
A: Yes, TOOLIOM Welding Helmet has an adjustable shade range from 9 to 13 and is equipped with adjustable headgear for a comfortable fit. It is also lightweight and easy to wear.
Q: What are the features of the TOOLIOM Welding Helmet Auto Darkening Flame?
A: TOOLIOM Welding Helmet Auto Darkening Flame features an adjustable shade range from 9 to 13, true color auto darkening for a clear view of the welding area, and a large viewing area of 3.94 x 3.27 inches. It also has two arc sensors for faster switching and comfortable headgear for all-day wear.
Q: What should I do if my cart is empty?
A: If your cart is empty, add the TOOLIOM Welding Helmet and checkout. You may also need to add other welding accessories and equipment to your cart to ensure you have everything you need for your project.
Q: What should I consider when buying an auto-darkening welding helmet?
A: When buying an auto-darkening welding helmet, consider the viewing area, adjustable shade range, number of arc sensors, comfort, and durability. You should also consider the welding you will be using it for and whether or not you need additional features such as true color auto darkening and solar power.