For me, welding is not only a profession but also a pleasure.
I love to see how I can create valuable objects and tools from nothing and have that satisfaction that only gives creativity.
To do this, I require the best automatic welding Helmet, which has cost me so much to achieve.
The issue is that sometimes they are too expensive. When I finally get an affordable one, it ends up being of poor quality, with weak parts, sensors that are never activated, or even without replacement lenses.
The worst is, without a doubt, those that take a long time to darken and that let the welding dazzle you, since they are not suitable for welders who want to take care of their eyes and their health.
Luckily I managed to find high-quality models, and I will tell you all about what they are and how to get them.
Best Welding Helmets Under $50
If you are entering the world of automatic Helmets, do not worry.
I know it can be overwhelming and complicated to find the best in the market without going through all those Helmets of poor quality.
That's why I will recommend a couple of things you should consider before buying to avoid another bitter drink.
In addition to that, I have made a comparative list with the best Helmets that I have used over time, the most comfortable, with wider visors and with the characteristics and ability to respond quickly and ideally for all your welding work.
I have been able to try them all, and they have given me exceptional results.
Here are the best automatic welding Helmets:
NASUM automatic welding Helmet
This excellent Helmet has Din 16 anti-UV / IR rating, in addition to a virtually zero UV and IR transmission that allows you to see the welding points protecting your vision.
It works with MIG, TIG, MAG, SMAW welding, MMA electrodes, and even plasma cutting and grinding.
Not only is it one of the Helmets that protects you the most, but it is super comfortable since it has a wide field of vision of 96 x 48 mm.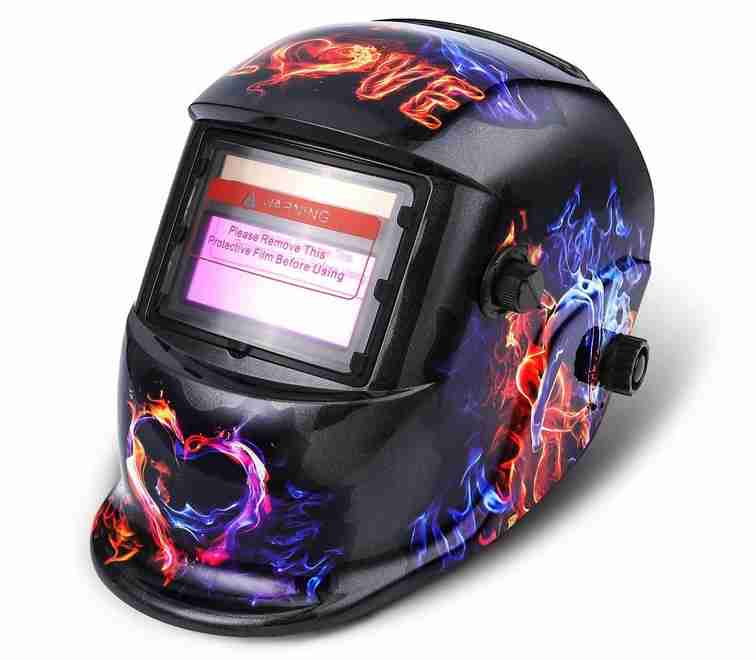 In addition to this, it has four sensors, sensitivity adjustment, delay adjustment, and response time or even dimming, to help you do the cleanest and most accurate work possible. It is also breathable to avoid foul odors after a long day,
It also has the European certificates of quality and safety and, finally, although it is also essential, it also has a very calm and modern design.
FIX KIT Automatic Welding Helmet
It has a response time of dark to light between 0.5 and 0.8 s and with a capacity for variable shadows DIN 9-1.
This translates into excellent protection for your eyes against ultraviolet and infrared radiation and weld flashes, which will also allow you to see much better welding points and do a better job.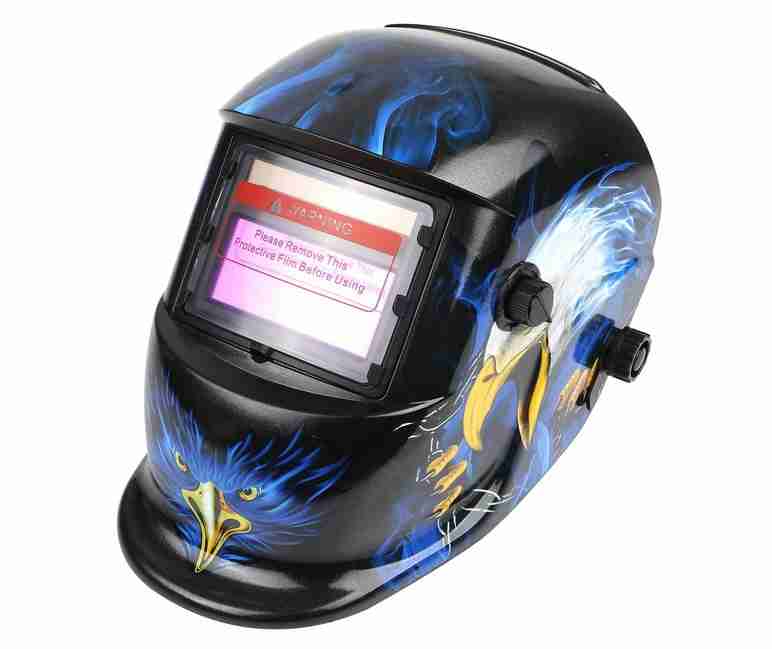 The temperature range supported by the Helmet is from -5 to 55º. At the same time, it also has CE and ROHS certifications that guarantee the quality and the product and, therefore, your safety when using it.
The design is super modern and attractive, while its size is also adjustable so that anyone can use it. It has a relatively wide field of view of 96 x 48 mm.
It uses lithium batteries and solar batteries.
Speedglas H752620 Automatic Welding Helmet
The first thing that stands out is this Helmet's impressive and striking super modern and youthful style.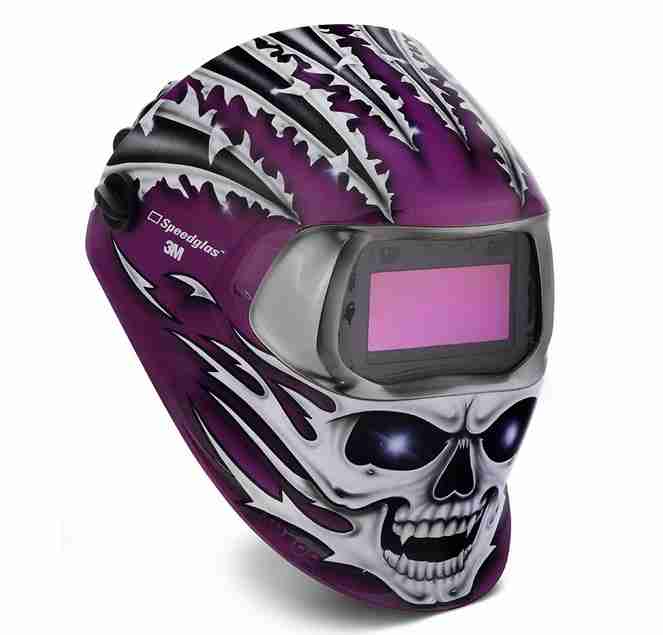 In addition to that, its welding filter is an uneven tone from 8 to 12, with 100-V, and works with MMA, MIG / MAG, and TIG type welding.
It allows a clear tone that I always use for grinding and delays time settings.
Einhell 9-13 Auto Welding Screen
One aspect that attracted me a lot to this Helmet of the Einhell brand is its lithium battery charged with solar cells.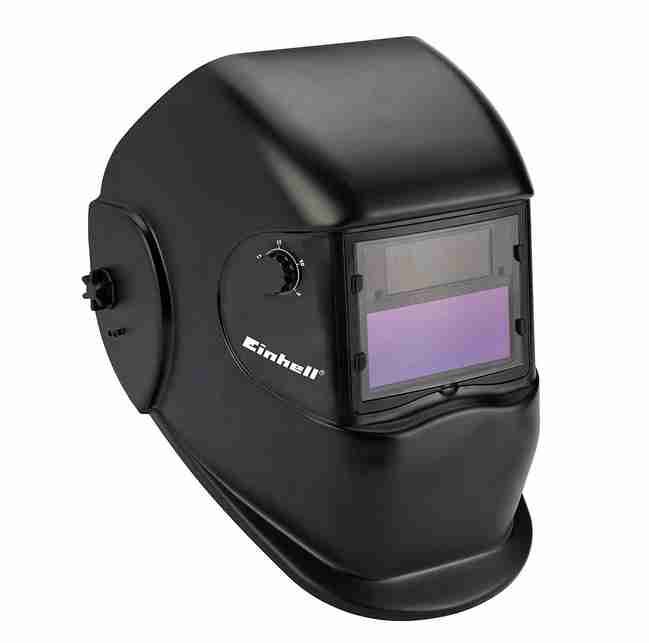 With it, I can have the duration and quality of lithium batteries with the low consumption and convenience of solar charging.
It also allows you to adjust the sensitivity, protection levels, and delay and includes a replacement lens.
Tacklife PAH02D Welding Helmet
This is one of my favorite helmets for all users because it serves me for everything.
The darkness and the filter automatically vary to give me answers that fit each situation.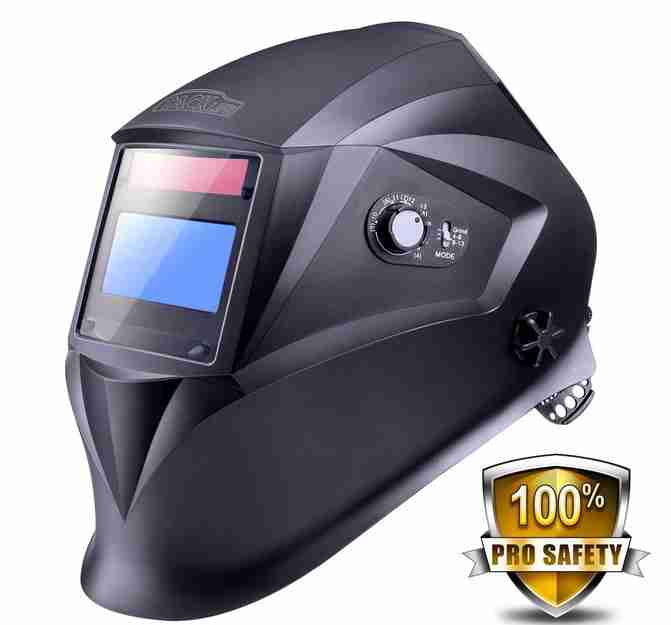 In addition, it has four high-sensitivity sensors for the arcs that give you a much faster response and meet several safety standards.
Solter Optimistic 100 Automatic Welding Screen
This model can give you a dark tone of DIN9-13, with a field of view from 4 to 9.6 cm and good optical quality.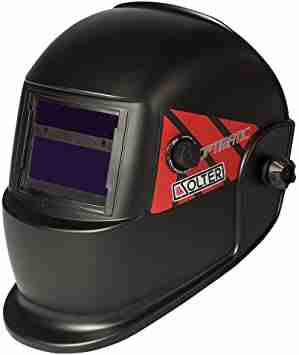 However, for me, its most vital points are its micro-adjustable sensitivity, its four sensors for welding arcs, and the operation with interchangeable battery and solar energy.
It also has a sober design for professionals.
LE SOLEIL WHD-10125uk Automatic Welding Helmet
This is one of the designs that I liked the most. It even makes me feel like a TV show about cars or something like that.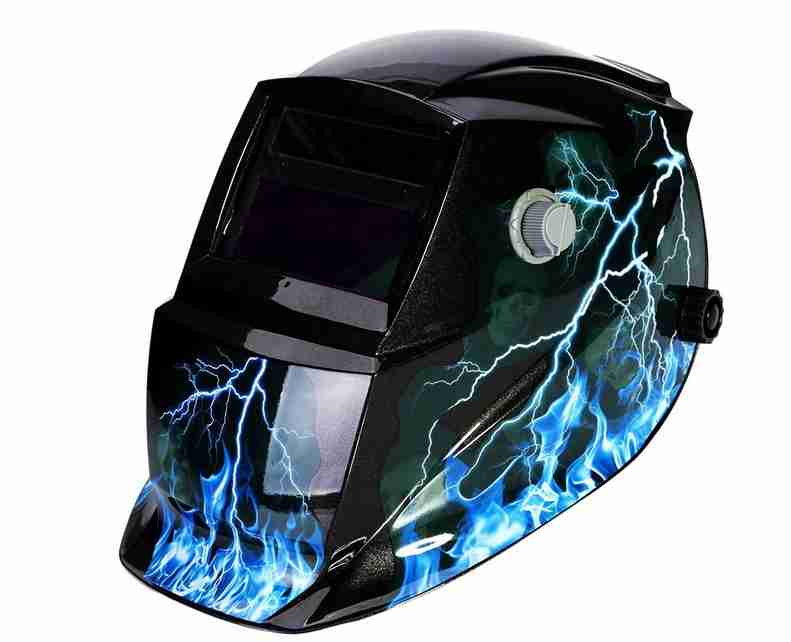 Beyond that, its protective elements include its blackout DIN 9-13, adjustable delay, UV protection, and more.
What is an automatic welding Helmet?
We are talking about welding helmets that include an electric visor that darkens when detecting that your welder has turned on and is in full welding so that they can avoid in time, and automatically, that the harmful infrared and UV rays of the Welding machines reach your eyes and cause health problems.
So you can also save time by lowering and raising the Helmet lens at all times, and you can have your hands free and ready only to weld.
The masks or screens or welding masks are the main working instrument of any welder, whether amateur or welding professionals.
Without them, it would be impossible to carry out any welding work since they protect our face, neck, and skin from sparks and burns and, most valuable, our eyes from the very concentrated infrared and ultraviolet rays of the welding arc that produce the painful inflammation of the cornea and can prevent the retinal burn that can cause us something as serious as vision loss.
There are different designs of welding masks, and they are made of other materials.
Over time, the welding screens were evolving, and currently, the screens allow the operator to dispose of both hands and perform better welding work freely.
The screens have an inactinic glass visor that protects the eyes from harmful optical radiation due to the welding arc.
Traditional welding masks
The most traditional and economical are made of reinforced black polypropylene, which makes them very light and comfortable, and we can use them for many hours without too much discomfort.
They have an adjustable harness with a rotating steering wheel on the neck, which facilitates the best fit for the different sizes of the user's head.
Electronic welding masks
Nowadays, the technology of welding masks has developed enormously, and we have electronic welding screens that offer complete protection.
Its viewfinder incorporates photosensitive cells that regulate the amount of light that enters it according to the surrounding lighting conditions.
When the operator is not welding, the mask offers a shared vision. Still, when the operator begins to weld, the photosensitive cells of the viewfinder, when detecting the ultraviolet or infrared rays of the weld, make the viewfinder darken and thus prevent damage to the viewfinder—eyes of the person who is welding.
And at the end of the welding process, the screen returns to its average luminosity, and the operator can quickly check the work done without removing the screen.
In this way, the welder does not waste too much time checking, again and again, the work done and also avoids the minor accidents and damages that his eyes can suffer from the arc when starting or finishing a welding job.
These modern screens include a scale that allows you to adjust the dimming level adapting it to the type of welding we are doing.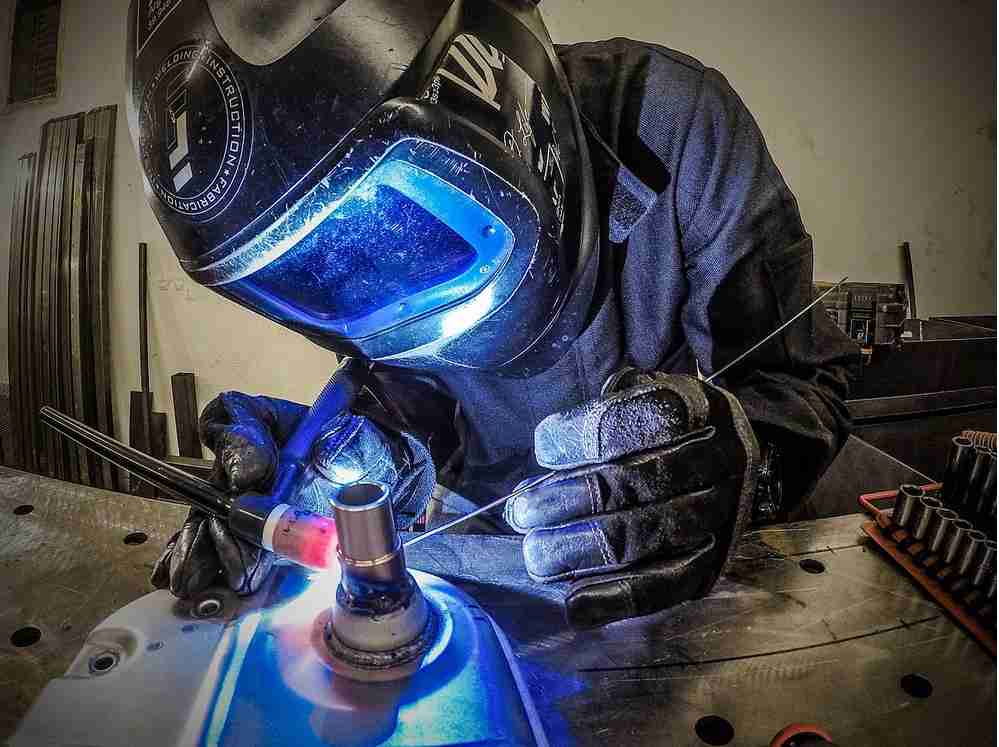 What is a welding mask for?
1. Protect your skin
Performing welding work produces hot debris that comes from the materials used.
These wastes can jump into your face causing burns and cuts. A good welding mask will keep these materials away from your skin.
2. Protect your eyes
The lenses of the welding masks have darkening functions to protect your eyes from the intense and constant light produced when welding.
Constant exposure to such light damages the eye's retina and can cause long-term damage to your eyes.
3. Reduce fatigue
Modern welding masks or helmets are very light and comfortable to wear (not like traditional very heavy and uncomfortable).
How to choose the best automatic welding Helmet?
The subject with these photosensitive Helmets is that they are different from the regular ones, so you not only have to make sure you buy one that covers your eyes and face well and that fits you comfortably, but also must have several additional features that guarantee its functionality. Here we will see them all:
Make it easy to use
As always, any welding Helmet should be easy to place and adjust.
That said, the recommended ones are those that allow you a fast and straightforward adjustment, such as to be able to place it on your head quickly, without wasting time to weld, and without being a risk to your safety.
Apart from that, many of the new Helmets come with padded parts that protect your head from any discomfort and can be used for hours and hours without pain.
You must also have a lightweight.
Especially for professional welders, having a light Helmet is a must.
Using these devices for so many continuous hours can be exhausting and leave neck or back pain, so the goal is always to go for a model made with lightweight materials that give great comfort.
At least that's how I have chosen them, and the truth has been great for me.
I also notice that I am more efficient and faster using lighter Helmets.
Does it work with standard-size lenses?
Remember that standard lenses have a size of 5 x 10 cm because they are the ones that give a full and clear field of vision.
At the same time, having a lens of this size can give you a better vision in very closed places and with somewhat limited visibility.
Does it give you a clear vision?
The issue of clear vision goes beyond the size of the lens and refers to a couple of slightly more technical aspects of it.
For example, light diffusion, vision accuracy, angular dependence, and a consistent shadow. It is always convenient to have an expert's opinion who can see the automatic dimming lens with you before buying it.
Do you have the correct shade range?
The choice of this factor will depend directly on the type of welding you have to do.
On the resting state, you must know that it goes from 3 to 4, making it easier for you to put the equipment back on to start again where you had stopped.
It must be easy to use and intuitive.
One of the most relevant aspects is, without a doubt, that your electronic welding Helmet operates efficiently and is very easy to use.
Nobody wants to have their hands busy all the time trying to adjust an awkward device over their head.
Look for models with adjustable knobs, digital displays, internal and external controls, and any other function that you find convenient.
✅ TOP 5: Best Welding Helmet 2022
Read Next – Best Tig Welding Machine Kit Buying Guide
What is your source of energy?
Some Helmets use replaceable lithium batteries, while others can use solar energy cells and combine them with these lithium batteries.
The truth is that any of these options are pretty good, and everything will depend, to a greater extent, on the preferences of each one.
Consider the time it takes to get dark.
Something significant is what it takes for the automatic filter to activate once it detects the welding arc. The faster, the better.
Total number of arc sensors
Ideally, any good quality automatic welding screen should have between 2 and 4 sensors to protect you from harmful rays.
Sensitivity and delay settings
Remember that a good helmet has varying levels of sensitivity and delay.
The first would be the intensity that the arc must-have for the automatic display to activate and, second, the time that the lens remains dark once the arc has been turned off.
At the same time, the best Helmets have flexible and customizable configurations, although they are not precisely the least expensive.
DEKOPRO Welding Helmet Solar Powered Auto Darkening Hood with Adjustable Shade Range 4/9-13 for Mig Tig Arc Welder Mask (Blue Eagle)
3 new from $36.99
Free shipping
as of December 3, 2022 10:04 pm
YESWELDER True Color Solar Powered Auto Darkening Welding Helmet, Wide Shade 4/9-13 for TIG MIG ARC Weld Hood Helmet
3 new from $39.88
Free shipping
as of December 3, 2022 10:04 pm
Jackson Safety Durable, Comfortable, Hard Hat Adaptable, Fixed Shade W10 HSL 100 Welding Helmet, Black, Universal Size, 14975
10 new from $59.95

as of December 3, 2022 10:04 pm
Antra AH6-260-0000 Auto Darkening Welding Helmet Wide Shade Range 4/5-9/9-13 Engineered for TIG MIG/MAG MMA Plasma Grinding, Solar-Lithium Dual Power, 6+1 Extra Lens Covers
3 new from $39.99
Free shipping
as of December 3, 2022 10:04 pm
TOOLIOM Flip Up Welding Helmet 3.64 x 1.67 inch Auto Darkening Clamshell Welding Mask True Color Lift Front Welding Hood
as of December 3, 2022 10:04 pm
Neiko 53847A Industrial Grade Welding Helmet with Flip Lens, Shade 11 | Meets ANSI Z87.1
out of stock
as of December 3, 2022 10:04 pm
JSungo Welding Helmet Solar Powered, Luminous Auto Darkening Weld Hood with An Extra Clear Lens, Variable Shade Range 4/9-13 for TIG MIG Arc Welder Mask (Spider)
out of stock
as of December 3, 2022 10:04 pm
Ekkcash Auto Darkening Welding Helmet,Large Viewing Solar-Lithium Dual Power Mask, Wide Shade 9-13 Flip up Welding Hood with Grinding For Tig Mig Mma Plasma
as of December 3, 2022 10:04 pm
Forney Easy Weld Series Black Matte ADF Welding Helmet, 55731
6 new from $37.00
Free shipping
as of December 3, 2022 10:04 pm
ArcOne 3-0171 Carrera Welding Helmet for 2000T, 1000F, 2500V, 4500V, 5000V, 5500V, 6000V, IDF48 Filters, Fighting Tiger
out of stock
as of December 3, 2022 10:04 pm
TOOLIOM Welding Helmet Auto Darkening True Color Solar Powered Welding Mask for MIG TIG Arc Welder
as of December 3, 2022 10:04 pm